UK TRUCK SALES
For UK and Irish customers, we hold a huge range of top-end Scania Topline and Volvo Globetrotter XL tractor units – plenty of powerful V8s to choose from with automatic transmissions – either 4x2 or 6x2 formats. Visitors to our website and Northern Ireland facility will always see the care and attention we put into the preparation of each truck. Using our in-house workshops and vehicle valeting, these trucks go through a mechanical inspection and are given a full year's MoT from the date of purchase. As standard, each truck is given a 'deep clean' so each truck feels like new when the new owner drives it away.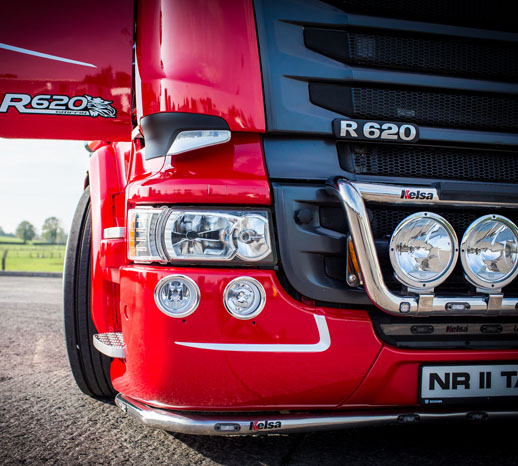 TRUCK PERSONALISATION
We understand that buyers of high-spec trucks want to add their own special touches. This is where we come into our own – we can add leather seats, side skirts, light bars, alloy wheels, colour-code the mirrors and bumpers or carry out a total respray of the truck into the customer's own colours. It's more than 'pimping' the trucks, however. If the customer needs a tipping, pumping or auto lube system added we can supply and fit – either new or second hand.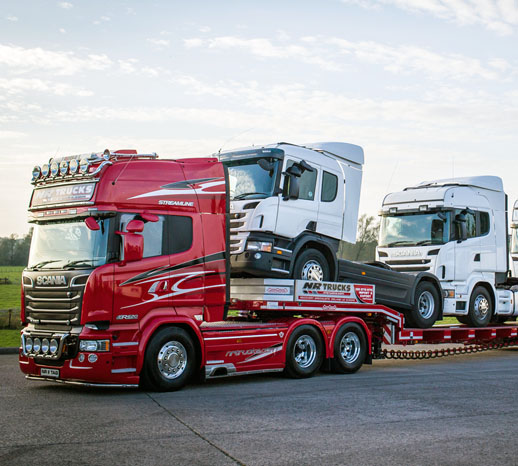 TRUCK EXPORTS
In addition to high-spec Scanias and Volvos for the domestic markets, we export huge numbers of Scania and Volvo trucks all over the world. Customers usually come from right hand drive countries in Africa including Namibia and its thriving Walvis Bay port, Dar Es Salam in Tanzania, Mombassa in Kenya and even across to Myanmar (Burmah). We make the purchase of a truck for export straightforward. We keep the low cab height, manual tractor units in stock that are popular in the African markets. These are typically Highline Scanias or Globetrotter Volvos – usually Euro 4 trucks. The export market demands slightly older trucks with more straightforward electronics than those we prepare for sale in the UK and Ireland. We know exactly the type of truck the export market is looking for and we make sure there is always plenty in stock.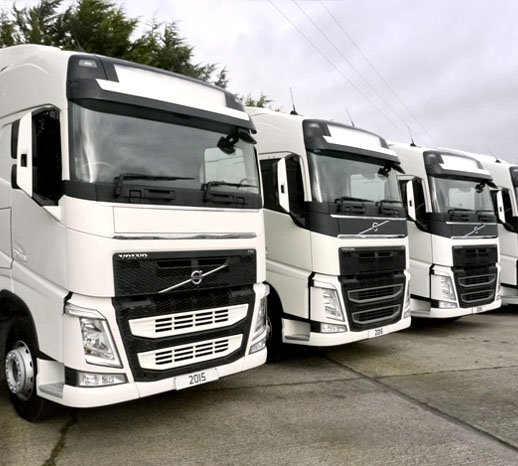 TRUCK RENTAL
From our Moy, County Tyrone base we offer a truck hire facility . Rental durations for our Scania and Volvo tractor units vary from one day to two years. All vehicles are owned by NR Trucks and are available collection upon receipt of deposit and acceptable identification.
WHY NR TRUCKS
Specialising in high end tractor units since 2006, NR Trucks is based on a 10-acre site in Moy, Northern Ireland and sells to customers across the UK, Ireland and across the world. We believe in putting the customer first. Although many customers buy the vehicles without seeing them first, we have welcomed many customers to our Northern Ireland facility. We always collect and return you from Belfast airport or from the docks – we are only about an hour's drive by car.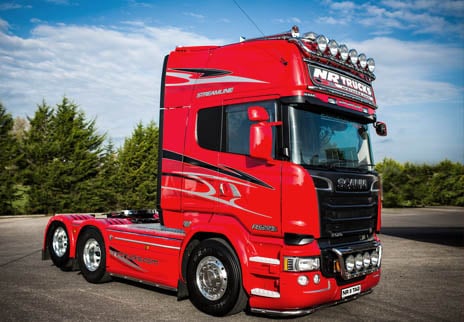 TESTIMONIALS
We recently purchased trucks and trailers from Barry in N R Trucks.
The paint job was top class, and I have to say I was delighted with the purchases and the attention to detail given by Barry, we would have no hesitation buying from this company again.
May I take this opportunity to say thank you for the great service we received when purchasing the outstanding and very recognisable truck's that we are now the proud owners of. The no fuss approach to business is a rare and exceptional thing these days and it suits the way we do business perfectly. After choosing the right trucks for our operation from your vast stock the deal offered was too good to miss with the trucks being delivered as promised with all requested work carried out. A special mention to Brian for an outstanding job with the livery. The trucks are a great advert for our business. We will not hesitate in coming to NR Trucks in the future to source our trucks. Many thanks again.
We chose NR Trucks as our truck provider because of their price, their products but moreover their one to one service. With time sensitive loads and customers demands we can't afford breakdowns or down time.
NR trucks handle all of our service and maintenance work and if something can't be sorted there and then they provide us with a replacement truck, both in Ireland and in the UK if need be. Someone on the phone 24/7 is what keeps us with NR Trucks and we enjoy a good relationship with them.